Diono Pacifica Convertible Car Seat
List Price: $339.99
Amazon: $271.74 (Direct link here)
Weight Range (RF): 5 to 50 lb
Weight Range (FF Harness): 20 to 90 lb
Weight Range (FF Booster): 50 to 120 lb
Max Height: 44″ (RF) / 57″ (FF)
Average Age Range: birth to 12 years
Steel Frame: Yes
LATCH Weight Limit: 35 lbs RF / 40 lbs FF
Diono car seats are my absolute favorite seats, ever.  If you are looking for the perfect seat to get you through many years, stop researching now.  Diono is the only car seat brand that offers convertible+booster seats with a full steel frame making them one of the safest car seats available today.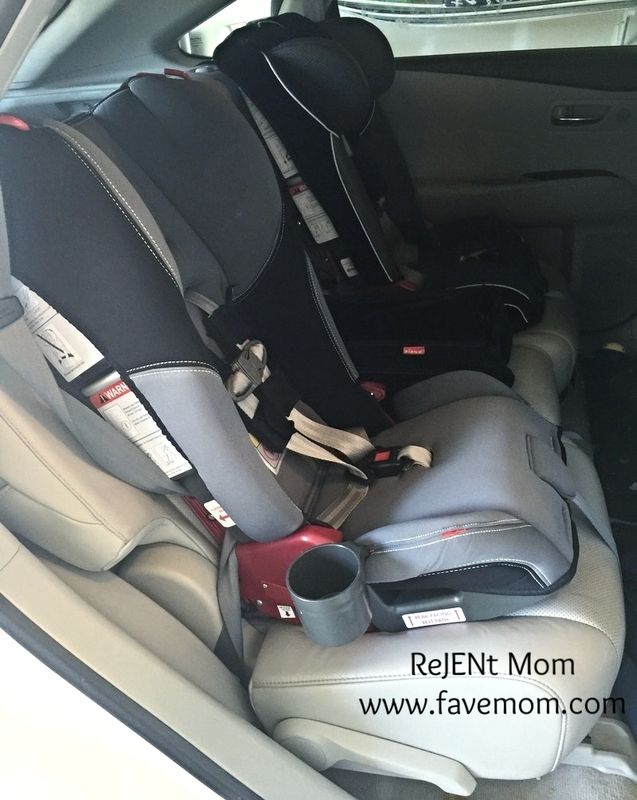 Low Side Profile
This is something I never thought about or considered when I bought my first convertible seat years ago.  This seat makes it SUPER easy to load and unload kids thanks to the low side profile.  With other brands I found it difficult to get my kids in and out of the car if the seat was deep, had arm rests or high cup holders. I would usually bump my kids heads on the door frame of the car or hurt their legs when pulling them out.  It's also easier to get the kids into the car when you are parked in those tight parking spaces where you might not be able to open your door as wide.  The low sides make it so you are just sitting your kids right into the seat.  No weird lifting or shifting to fit them into the car.  It's also easier for our oldest son to climb into the seat himself and wait to be buckled.  I have friends who initially bought a car seat with deeper sides and ended up regretting their decision once their child was older and they ended up choosing a Diono seat because of the lower side profile.
Easy Chest Clip
This is, by far, is the easiest chest clip to buckle and unbuckle!  I can hold my youngest and use one hand and unbuckle the clip with the other hand.  Our oldest son can easily buckle the chest clip himself, but can not unbuckle on his own.  Paired with the long pad kit that comes with your seat, keeping the chest clip in the PROPER position is a breeze and keeps my son from pushing it down to his belly.
Extra Deep Side Walls
Reinforced deeper sidewalls lined with energy absorbing foam give Pacifica superior head and body protection.
The outside wall compresses under load to absorb additional energy in an impact, increasing side impact performance without increasing width.
The deep side walls also help with head support while sleeping.  We have not experienced any head drop while my son slept in this seat.
Designed with Safety Synergy™ technology, all these innovative features seamlessly work together providing the highest level of performance and safety for your children.
#1 Highest Rear-Facing Weight Limit
Together with the Ranier seat, the Diono Pacifica now leads the way when it comes to extended rear-facing weight limits. Most convertible car seats enable rear-facing up to about 40 lbs, but the Pacifica extends this to 50 lbs. The Diono Radian car seats are impressive at 45 lbs rear-facing, but the Pacifica now offers an extra option for those parents who want to keep their child rear-facing for even longer.
There is now compelling evidence to prove that rear-facing is much safer than forwards facing for young children and any new car seat that seeks to prolong rear-facing longer than other car seats on the market is to be warmly welcomed.
However, one must bear in mind that for many children this extra 5-10 lbs rear-facing weight capacity will be unusable, since they will have exceeded the 44 inch height limit before they reach the 50 lb weight limit anyway.
Some users found installing their Diono seats rear facing in smaller vehicles difficult since the seat is tall.  This limits the front passenger or drivers leg room.  Diono offers an angle adjuster that positions rear-facing  seats at a more upright angle for older children and can add up to 4″ behind the front seats for more front leg room.
Diono Pacifica also offers rear-facing tether capability which helps reduce seat rotation during an impact. This unique feature is not found on every car seat and provides an extra layer of protection when your child is rear-facing.
Super LATCH Installation
Diono's unique SuperLATCH system makes installation easy, strong and secure. An audible click and visual indicator let you know when the connectors are locked.  Every Diono car seat surpasses Federal crash test standards and meets NCAP standards, the industry benchmark for verifying child seat performance in severe crash conditions. An NCAP crash test is twice the force of a standard crash test.
Industry Leading 12 Year Product Life

12 year lifespan (from date of purchase) means the Pacifica could be the only car seat your child will ever need.

Slim Profile Means that 3 in a Row is Possible
Diono Pacifica remains a very narrow car seat and you should to be able to fit 3 in a row in most vehicles.  However, you should note that, although both the Radian RXT and the Pacifica measure 17 inches at the base, the Pacifica's new deeper side walls make it wider at the top front part of the seat (23 inches). So, if you have a smaller vehicle, it might be more sensible to stick with the Radian RXT or R100.
Having said that, provided you buy the seat from a retailer that offers Free Returns, you can always check the fit before fully committing to the purchase.
Diono Pacifica Convertible Car Seat plus Booster with Body Pillow:
Rear-facing use for children from 5 to 50 lbs
Forward-facing for children from 20 to 90 lbs a in 5-point harness mode; up to 57″ in height
Converts to a booster for children between 50 to 120 lbs or up to 57″
5-point harness
Designed with Safety Synergy technology for the highest level of performance and safety
Full steel alloy frame and aluminum reinforced sides for unmatched strength
Reinforced deeper sidewalls lined with energy absorbing foam for superior head and body protection
Luxurious 2-piece infant body pillow provides support and comfort
Memory foam padding for extra comfort
Sits low on vehicle seat for easy child boarding and improved safety performance in a crash
Extra-long leg support for comfy road trips and multiple harness and buckle positions for custom fit
Rear-facing tether capability
Additional forward-facing recline position to accommodate different types of contoured vehicle seats
SafeStop energy absorbing harness
Anti-slip rubber seat grips
SuperLATCH system; with the Strongest Connectors and Secureweave webbing it provides an easy and secure installation
Meets FAA standards for air travel
12-year life
Dimensions open: 18″W x 16″D"W x 28.5″H
Dimensions folded: 18″W x 10″D"W x 28.5″H
Some assembly required
Assembled weight with base: 27.4 lbs
Folds flat for travel and easy storage
It is important to read any car seats instruction manual when installing the seat.  You can find a helpful video on installing your seat here from the Car Seat Lady.
My son absolutely loves this seat.  We plan to use this seat for many years to come.